Research Trip
Research trips are once off itineraries where we test out new routes and locations to see if elements of the route might be viable for future Be Your Best adventures. The details of such trips can change on short notice, and typically they cover a small region but offer more time in that region to discover new highlights.
The travel style is often very basic and prone to unforeseen compromises. We typically limit access to research trips to people who have travelled with us previously and can be assured that they will roll with the bumps in good humor. Always chat with Ewen or Shellie first before booking onto a research trip.
Itinerary & Highlights
Arrival in Kathmandu
Our team will collect you at Kathmandu Airport
All meals, transport, accommodation and permits are included during the tour
Research Trip to Manang & Tilicho
Drive to Besisahar by van then travel by jeep to Manang via Chame, Pisang and other villages
Slow acclimation en-route to Manang (3500m/11,500ft) to adjust to altitude
Three days in Manang to explore sites around the valley before heading to Tilicho
2km hike to reach the shores of Lake Tilicho (4,900m/16,000ft)
Overnight at Lake Tilicho to experience sunset and sunrise
Return to Kathmandu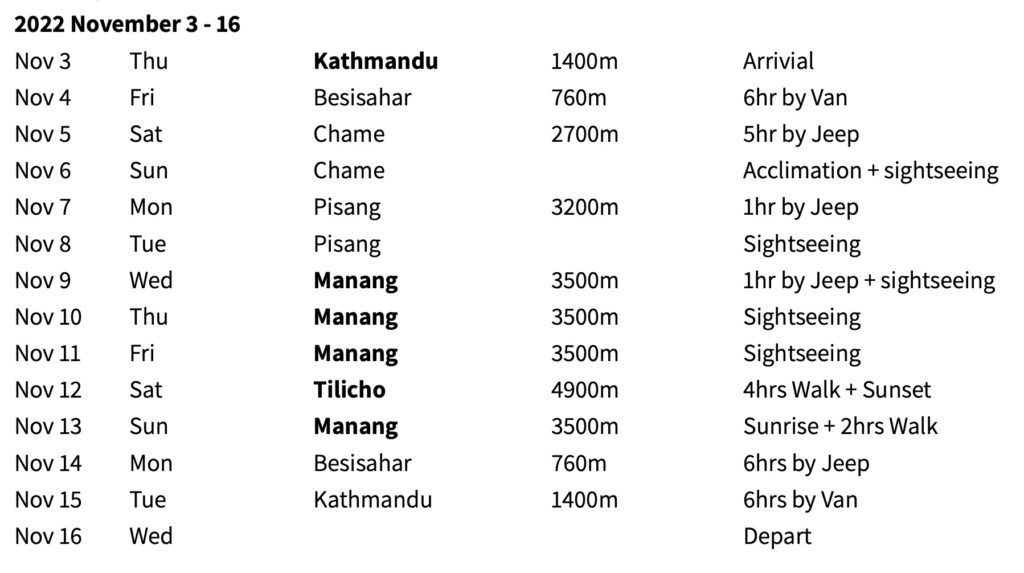 The Basics
All meals, accommodation, transport and permits are included. Visa and tipping is not. 
Accommodation is single rooms by default, noting that once we enter the jeep section of the tour expect only very basic guesthouses. Sleeping bags and towels will be provided by our ground team so you don't have to pack extra gear.
Weather conditions will be very cold above 3500m, with sub-zero at night but typically comfortable during the day while the sunshine is out. Puffy jacket is recommended for the Manang and Tilicho sections.
Reaching Tilicho Lake from Manang requires one section of trekking. Where the road ends, there is 2km of trail to negotiate with a 1,000m rise in elevation. This is slow and difficult at altitude, but we have lots of time to complete it.
It may be possible to hire horses for that 2km section, but there are no certainties.
Packing and pre-departure docs will be supplied in advance of the trip.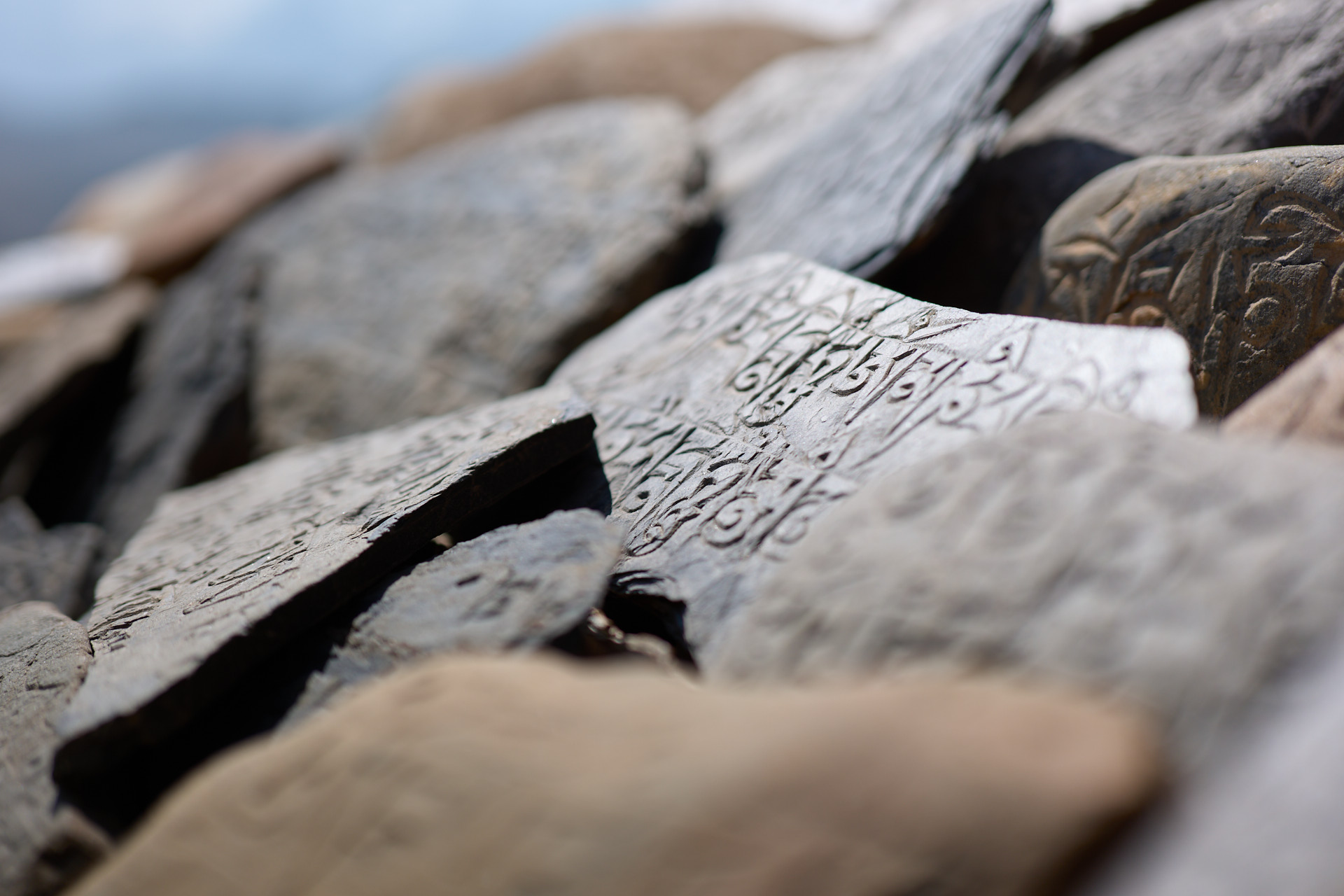 How Long Have you Been Running Tours to Nepal?
It's been ten years since Ewen Bell first started guiding trips to Nepal. His favourite season is winter when the air is cool and dry in the mountains, giving clear views of snow-capped mountains.
How Much Cash Do I Need?
Not much at all. All meals, permits and ground transport are covered already. If you're not buying much in the way of souvenirs then $20 for a sim card and maybe another $50 for drinks should cover the basics. We also provide a more detailed "Pre-Departure Pack" when you book in the tour.
Are The Walks Hard?
No, most of the walking is very very easy. There are a few steep bits that are very short, but we also have the added impact of a little altitude in the mix. So we do everything gentle, and every walk is optional.
What Shoes Are Good Shoes?
The terrain in Nepal is always uneven, which means solid walking boots with high ankle support is recommended. We don't do heavy walks on the Be Your Best tours, but we do expect to travese dusty and rocky trails.
How Cold Are The Guesthouses?
Very cold. We travel on the edges of winter and the night air can drop to zero degrees. Guesthouses are energy poor and offer no heating, so we supply sleeping bags for additional warmth. Some people feel the cold more than others, while some people get too warm inside the sleeping bags.
Do We Have Electricty Every Night
Yes. Everywhere we travel is good for electricity, although the supply can drop out for hours at a time. Charging camera batteries or a laptop each day is never a problem.
Will I Have Mobile and Internet Access?
Yes there is mobile networks at every place we stay on the tour. The networks do vary so roaming connections may vary also. We recommend a local sim-card for cheap internet access as hotel internet is often slow.
How Do I Get A Visa?
We supply all travellers with a detailed Pre-Departure Pack when they book for a tour, which includes how to apply for "Visa on Arrival" and a lot of other information such as help with packing. For more general information we recommend you read through the brochure shown below.
What Restrictions are In Place in Nepal?
Masks are a part of daily life in Nepal and will be required in many public settings. We ask that all travellers obey all local public health regulations during the trip.
Can I get a PCR test before leaving to fly home?
Yes, we can arrange a PCR if you need one for onward flights and ensure you get documented results returned on the same day. This costs US$30.