Research Trip
Research trips are once off itineraries where we test out new routes and locations to see if elements of the route might be viable for future Be Your Best adventures. The details of such trips can change on short notice, and typically they cover a small region but offer more time in that region to discover new highlights.
We typically limit access to research trips to people who have travelled with us previously and can be assured that they will roll with the bumps in good humor. Always chat with Ewen or Shellie first before booking onto a research trip. This particular itinerary combines a little 4-star luxury in between 3-star lodgings.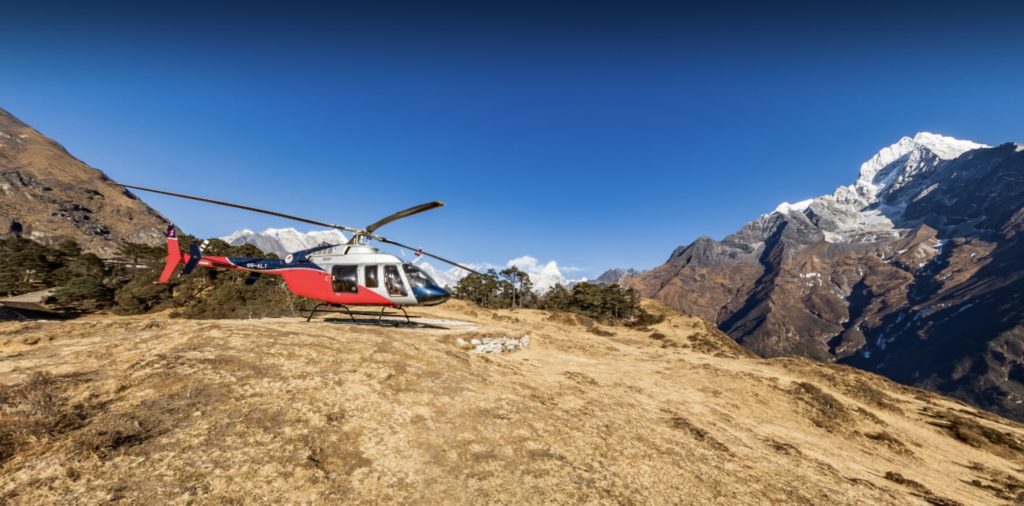 Itinerary Outline
We're heading to Samboyche to enjoy views of Everest, and with the help of helicopter transfers we'll get a chance to step foot at Everest Base Camp. We start the trip in Lukla to adjust to the thin air before heading higher up the hill. After our Everest encounter we fly to the far west of Nepal to visit Bardiya National Park for some luxury digs and follow the trail of the wild Tigers, Rhino and birdlife.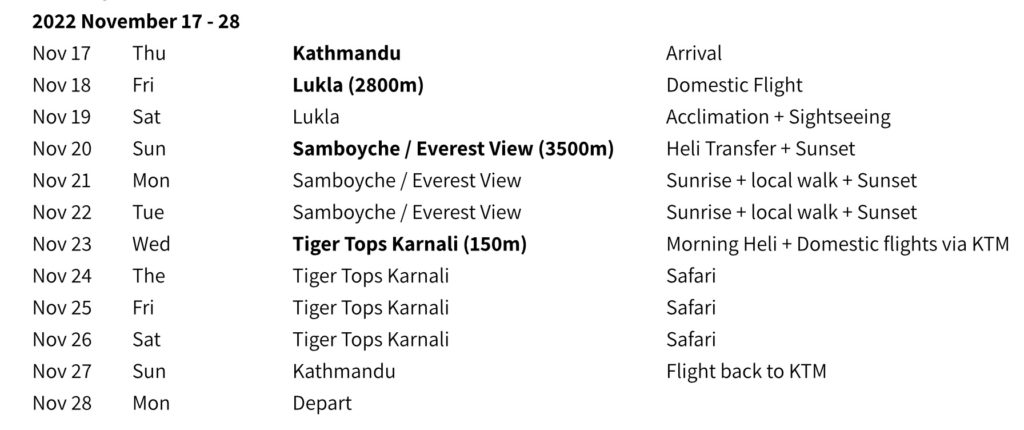 The Basics
All meals, accommodation, transport, domestic flights and permits are included. Visa and tipping is not.
Accommodation is single rooms by default, with a mix of 3-star and 4-star resorts.
Weather conditions will be very cold at 3500m, with sub-zero at night but typically comfortable during the day while the sunshine is out. Puffy jacket is sufficient for your comfort in the early morning air at elevation.
Helicopter transfer allows for a very short landing at Everest Base Camp (5100m). 10mins max; enough to make it special!
Acclimation to prepare for higher elevations is at Lukla, with two nights at 2800m. You will feel breathless even from minimal effort such as stairs and bending down. We take the Lukla stage slowly, and the Samboyche stage even slower!
While staying at Everest View we have a chance to walk to nearby villages and valleys, depending on your level of fitness and acclimation. We hope to see the snow capped peaks at various stages of illumination at dawn and dusk.
Travelling across Nepal to Bardiya will be a long travel day, starting with a private helicopter and finishing with two domestic flights and a 3 hour drive to reach the lodge.
Expect very warm weather in the tiger forests, even in November. No need for puffy jackets here.
Bardiya is the best place in Nepal to see wild Tigers. There is no certainty of course that we will, but we plan for four nights in the park to give ourselves a decent chance. This is a wilderness safari, not a photography tour. In addition to tigers, we expect to see wild rhino, walk with elephants, spot deer and encounter a wide variety of birds.
Packing and pre-departure docs will be supplied in advance of the trip.
Minimum group size is 3 people
We can also help with extensions to enjoy more time in Kathmandu Valley
Featured Hotels
https://tigertops.com/lodges/karnali-lodge
How Long Have you Been Running Tours to Nepal?
It's been ten years since Ewen Bell first started guiding trips to Nepal. His favourite season is winter when the air is cool and dry in the mountains, giving clear views of snow-capped mountains.
How Much Cash Do I Need?
Not much at all. All meals, permits and ground transport are covered already. If you're not buying much in the way of souvenirs then $20 for a sim card and maybe another $50 for drinks should cover the basics. We also provide a more detailed "Pre-Departure Pack" when you book in the tour.
Are The Walks Hard?
No, most of the walking is very very easy. There are a few steep bits that are very short, but we also have the added impact of a little altitude in the mix. So we do everything gentle, and every walk is optional.
What Shoes Are Good Shoes?
The terrain in Nepal is always uneven, which means solid walking boots with high ankle support is recommended. We don't do heavy walks on the Be Your Best tours, but we do expect to travese dusty and rocky trails.
How Cold Are The Guesthouses?
Very cold. We travel on the edges of winter and the night air can drop to zero degrees. Guesthouses are energy poor and offer no heating, so we supply sleeping bags for additional warmth. Some people feel the cold more than others, while some people get too warm inside the sleeping bags.
Do We Have Electricty Every Night
Yes. Everywhere we travel is good for electricity, although the supply can drop out for hours at a time. Charging camera batteries or a laptop each day is never a problem.
Will I Have Mobile and Internet Access?
Yes there is mobile networks at every place we stay on the tour. The networks do vary so roaming connections may vary also. We recommend a local sim-card for cheap internet access as hotel internet is often slow.
How Do I Get A Visa?
We supply all travellers with a detailed Pre-Departure Pack when they book for a tour, which includes how to apply for "Visa on Arrival" and a lot of other information such as help with packing. For more general information we recommend you read through the brochure shown below.
What Restrictions are In Place in Nepal?
Masks are a part of daily life in Nepal and will be required in many public settings. We ask that all travellers obey all local public health regulations during the trip.
Can I get a PCR test before leaving to fly home?
Yes, we can arrange a PCR if you need one for onward flights and ensure you get documented results returned on the same day. This costs US$30.